Secure Information Management and Sharing
It's time to make your personal information private
Native Unicode application (Windows, OS X, iOS, and Linux)
AES-256 encryption
Five document types (accounts, notes, tasks, events, contacts)
Creole markup (subset)
State-dependent icon color for tasks and events
Document history
Filters
Reminders
Hierarchical tags
Multi-device sync with 'Zero-Knowledge' privacy
Multiple individually password-protected databases
Database sharing
Database hiding
Import/export using standard formats and from Outlook
Extremely fast and low on system resources
And some users say it's very addictive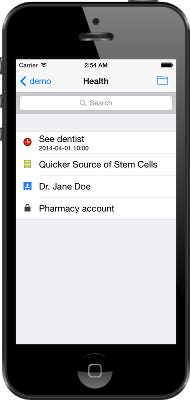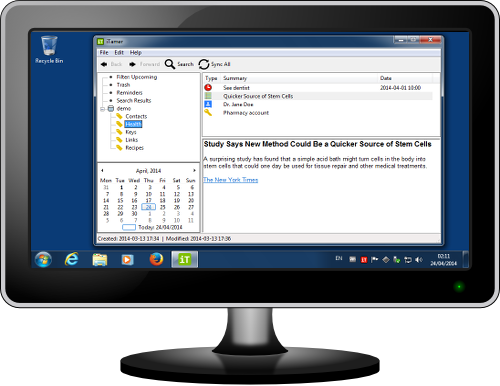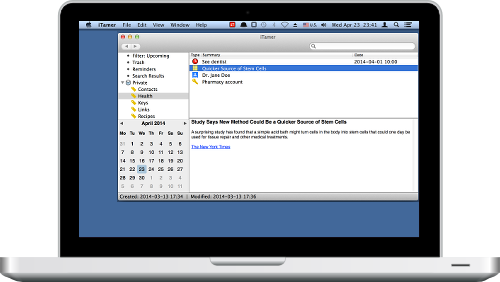 It is also important to understand what iTamer is NOT.
iTamer is not intended to manage large documents (over 1 MB) or documents in binary format (for example, Microsoft Word or PDF).
You cannot include images within the document contents. All information must be entered in plain text or imported from a file in a standard data exchange format.
Android and Windows Phone devices are currently not supported.
---
All in One Place and Safe
You may know about password management applications and how they help protect your identity from being stolen or impersonated. We take it a couple of steps further by offering the same protection for other types of personal information, and tools to safely share this information between multiple computing devices. All information is encrypted using AES-256 cipher.
iTamer uses several different passwords, including a master password that you use to log in, an iTamer account password, and a separate password for each database. With iTamer, you only have to remember your master password. Other passwords, including strong and unique passwords that you can create in iTamer for your accounts, will be safely stored and accessible after login.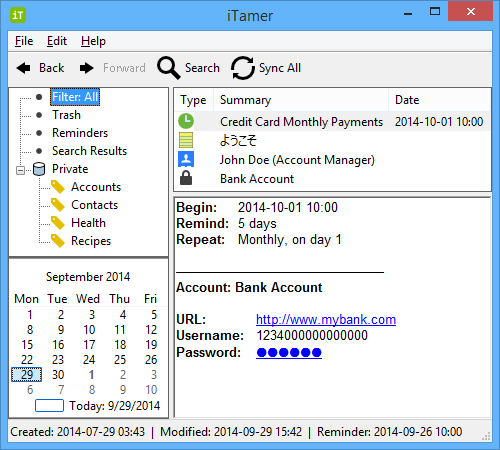 ---
Multilingual
You can change the language of the user interface at any time independent of the operating system language (except for iOS). iTamer currently supports English, French, German, and Spanish as the user interface language.
In the document contents and in the search pattern, you can mix multiple languages supported by the operating system.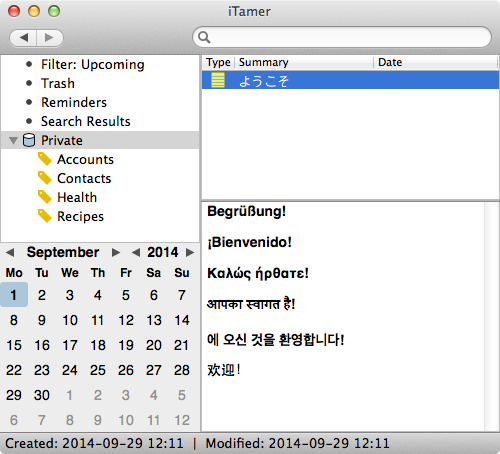 ---
Sync
Change documents on any device (PC, Mac, iPhone, iPod, iPad) and OS (Windows, OS X, iOS, Linux) and synchronize with the iTamer server. The system will automatically detect and merge changes from different devices with a simple manual resolution in the rare case of a conflict.
Your data is safe. The password used for encryption is not kept with the data and is not sent to the server. This is known as 'Zero-Knowledge' privacy. The synchronization protocol is also encrypted.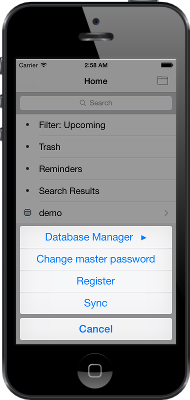 ---
Share
You can share a database with another iTamer user. That user will have access to the shared database only. You will both be able to change documents in the shared database and synchronize it from any device.
You can have a shared family database with common contacts, events and notes, or you can use a shared database for secure communication and collaboration when working with others on a project.